Did you know that there are actually 7 food groups (9 if you're a mom)? Of course there are the fruits/veggies, dairy, meat and grains. The other 3 (or 5 if you're a mom) are so delicious that they should be granted food group status. Those would include bacon, chipotle peppers and chocolate (and ketchup and ranch dressing--again, if you're a mom). I don't know what it is about chipotle peppers that delights me so much. I get all giddy just thinking about cooking with them. Maybe its because they add a flavor and smokiness that you just can't find anywhere else.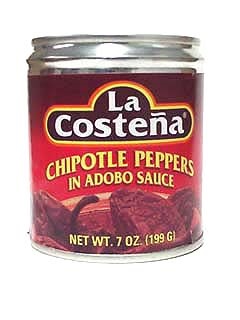 So what are these little beauties?
A chipotle pepper is a red Jalapeño chili, ripened, dried, and smoked through a special process. Derived from the Aztec word meaning smoke, jalapeños are placed over huge pits and smoke is blown through tunnels running underground.
Chipotle peppers have a unique warm heat and smoky flavor. Chipotles are packed in a red adobo sauce made from lightly seasoned tomato broth. Medium-thick fleshed, with a subtle deep rounded heat, they are excellent in sauces, soups, and as a seasoning for meats and stews.
Really, whats not to love about these little baby's?
Chipotle peppers and Chili are a perfect marriage. The great thing about it is you can make it smokey with just a bit of spice, you can make it "Holy crap! Call the fire department! My mouth just went up in flames!", or somewhere in between. This Chili is smokey with a subtle burn as it goes down. I'm afraid it was too spicy for my little ones, but from my 8 year old up, it was just right. Feel free to adjust the spices to your tastes. But add the chipotle pepper a little at a time and taste between additions to be sure you don't get it too spicy.
Smokey Chipotle Chili
Serves 12-15
2 lbs. ground beef
1 large onion, chopped
4 cloves garlic, minced
1 large green pepper, chopped
1 (28 oz.) can diced tomatoes, undrained
1 (15 oz.) can diced tomatoes, undrained
1 (8 oz.) can tomato sauce
1 chipotle pepper in adobo sauce, finely chopped
~2 tsp. cumin
~3 tsp. chili powder
~2 tsp. black pepper
~2 tsp. salt
1/2 cup water (use only if your chili seems to be too thick)
2 (15 oz.) cans kidney beans, rinsed and drained
2 (15 oz.) cans chili beans, undrained
In a large stock pot or dutch oven, cook the ground beef, onion, peppers and garlic until the meat is no longer pink and the vegetables are tender. Drain off any liquid or grease. Add the remaining ingredients except the beans. Reduce heat and simmer for 2 hours. Add the beans and heat through.
Source: A Mommy's original recipe